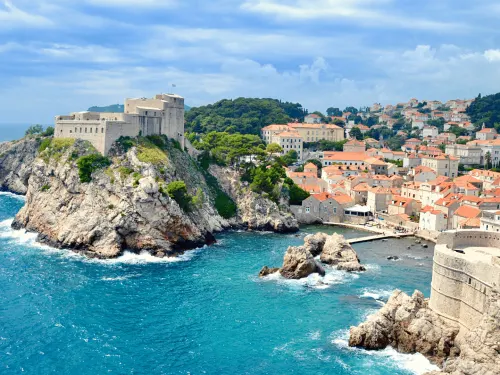 Italian Delights & Croatian Charms: The Best of Italy & Croatia
Indulge in the captivating beauty, rich history, and exquisite flavors of Italy and Croatia on an unforgettable journey with Conure Boutique Bounties. Our carefully curated Entertainment Itineraries showcases the very best of these two remarkable destinations, offering a blend of cultural immersion, scenic landscapes, and culinary delights.
$72 USD Avg per night
+ $100 taxes/fees.
Immerse yourself in the timeless allure of Italy as you explore iconic cities such as Rome, Florence, and Venice. Marvel at the grandeur of ancient Rome, where magnificent ruins and historic landmarks transport you back in time. Wander through the charming streets of Florence, home to world-renowned art and architecture. Fall in love with the romantic city of Venice, as you glide along its enchanting canals and soak in its unique atmosphere.
As you venture into Croatia, be prepared to be enchanted by its stunning coastal towns and pristine natural wonders. Discover the historical treasures of Dubrovnik, a UNESCO World Heritage site with its ancient walls and picturesque streets. Sail along the breathtaking Dalmatian Coast, where crystal-clear waters and idyllic islands create a paradise-like setting. Explore the charming city of Split, with its fascinating blend of Roman ruins and modern Mediterranean culture.
Throughout your journey, our experienced guides will provide insightful commentary and share their local knowledge, enhancing your understanding and appreciation of each destination. From hidden gems to well-known landmarks, they will ensure that you experience the true essence of Italy and Croatia.
At Conure Boutique Bounties, we understand the importance of comfort and relaxation during your travels. That's why we have carefully selected accommodations that offer a harmonious blend of luxury, charm, and authenticity. From elegant boutique hotels to waterfront resorts, each accommodation is designed to provide a comfortable haven where you can unwind after a day of exploration.
Embark on a remarkable journey through the Best of Italy & Croatia with Conure Boutique Bounties. Immerse yourself in the cultural treasures, breathtaking landscapes, and culinary delights that these two countries have to offer. Book your adventure today and let us create unforgettable memories together.

Also, follow us on Facebook.